ROSACEA or ACNE ROSACEA – Rosacea is a type of skin inflammation that affects the face.  Symptoms include redness, permanent flush across the nose and cheeks, non-tender lumps under the skin, yellow-headed pimples on the forehead, cheeks and chin.  Rosacea does not scar.  The small surface blood vessels (capillaries) of the skin enlarge, giving the appearance of a permanent flush.  Triggers can be over exposure to sunlight, spicy foods, alcohol, stress, anxiety, coffee and tea.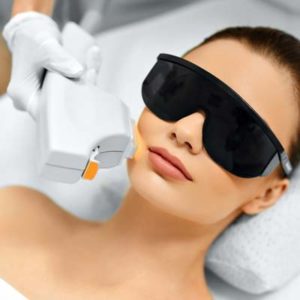 Can IPL (Intense Pulsed Light) treat Rosacea?
Yes, IPL can be very effective against the unsightly appearance of Rosacea.  Using heat energy to break down the vein walls of the tiny clusters of surface blood vessels.  More treatments maybe required in the intitial treatment phase to successfully reduce its appearance.  Although successful, IPL cannot prevent the veins from returning to the skin surface.  Because of this, an occasional maintenance treatment maybe required to keep the Rosacea under control.  Generally you can return to work the same day and resume all regular activities.  Your skin will not be broken and makeup applied immediately afterward.  It is important to limit exposure to the sun in the weeks before and after your treatment.
At Home Beauty Therapy can build you an individualised plan to decrease your Rosacea.